After a big weekend of harvesting our broiler hens, we wanted to find ways to use every possible part of the birds. In addition to our freezer full of meat for the winter, we made stock with the chicken feet, necks and bones, which will flavor our soups for months. Jackson our dog was salivating all day (although he is great about never bothering our chickens or ducks), so we rewarded him with some quick fried chicken hearts. I've never really enjoyed eating liver, but in all the wellness research I've done over the years I'm convinced of it's health benefits. It's one of the most nutrient dense foods available – packed with protein, Vitamin A, iron, copper, zinc, B Vitamins (particularly B12), and even Vitamin C. In fact, the University of California Berkeley's Wellness website states "Ounce for ounce, liver is probably more nutritious than any other food." So, I'm trying to find palatable ways of incorporating it into our diet.
Enter this amazing chicken liver pâté. It seriously tastes luxurious and is really simple to make. Since we have quite a few livers at the moment we will be making a large batch and freezing it in small cubes so we can take out a small portion each time we want to use it. I think it will be making a few appearances as hor d'oeuvres in the coming months. Dinner party at Sheep Creek anyone?!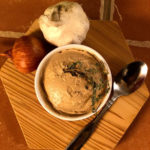 Chicken Liver Pâté
This simple, luxurious pâté is delicious and easy to make. While it feels very sophisticated, it can be quite inexpensive and makes a great dinner party hors d'oeuvre!
Ingredients
1/2

lb

chicken livers

well-trimmed

1

shallot

diced

1

clove

garlic

peeled and minced

1

bay leaf

1/2

tsp

thyme leaves

1/2

tsp

sea salt

1/2

cup

water

12

tbsp

butter

room temperature

2

tsp

rye whiskey

1

dash

pepper

freshly ground
Instructions
Place chicken livers, shallot, garlic, bay leaf, thyme, salt and water in a small saucepan and bring to a simmer.

Reduce the heat to low and cover the pan.

Stir occasionally and cook until the livers are barely pink inside. For me this took about 4 minutes.

Remove pan from the heat and let it stand, covered, for 5 minutes.

Using a slotted spoon, transfer the livers, shallot and garlic to a food processor. Discard remaining water and herbs.

Process until coarsely chopped and then begin adding butter, 2 tablespoons at a time, with the machine running.

Add the rye whiskey and season with salt and pepper. Process until the pate is silky smooth.

While you can serve it immediately, it is best if chilled overnight. You will want to take it out of the refrigerator about 30 minutes before serving to allow it to soften slightly.

Serve with crackers, veggies or toasted baguette. Enjoy!