Even though the pumpkins are long gone in the garden, we froze enough roasted pumpkin to help us fulfill our cravings for pumpkin soup, pumpkin bread and pumpkin muffins for a few more months. There's something about fall and winter that makes a simple pumpkin soup sound so appealing. It's probably the cold. Or the short days. Here at the farm we're in a canyon, so sunlight doesn't really hit the house until 10 am and is gone behind the mountain by 3 pm. It's not Alaska…but the days sure are shorter!
This simple soup is so creamy and delicious. With the addition of coconut milk or heavy cream, it can also be very filling, so doesn't necessarily even need a side. Steve and the kids would argue you need bread or a cheesy quesadilla to dip into it though! If you have any leftovers it also reheats or freezes nicely for a second meal.
While you can make the pumpkin soup by simply sauteing the onions, I highly recommend taking the extra time to caramelize the onions. The flavor is so much richer by taking those extra 10 minutes! Often I'll get the onions caramelizing while I'm doing some other task in the kitchen (usually washing dishes since we don't have a dishwasher in the cabin…and making 3 meals a day from scratch for 5 people leads to A LOT of dishes). Just make sure you don't forget about them and let them burn!
Go enjoy this wonderful taste of fall before it technically becomes winter!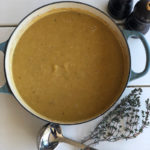 Creamy Pumpkin Soup
Delicious creamy pumpkin soup serves up all the flavors of fall and is a great soup on cold nights!
Ingredients
2

Tbsp

Butter

2

Large

Onions

Diced

2

Cloves

Garlic

Minced

1

tsp

Salt

1

tsp

Cinnamon

1/2

tsp

Ground ginger

1/2

tsp

Nutmeg

4

Cups

Pumpkin

Roasted

4

Cups

Bone broth or chicken stock

1/2

Cup

Coconut milk or heavy cream

1

tsp

Apple cider vinegar

Salt and pepper
Instructions
Heat large stock pan over medium heat and melt butter.

Add the diced onions and stir occasionally for 15-20 minutes to achieve a nice caramelized flavor. You can simply cook until the onions are translucent, but the longer you let them caramelize, the richer the flavor of the soup.

Add the garlic, salt and spices to the onions and stir constantly for 1 minute. This light "toasting" brings out the intensity of the spices.

Pour in the chicken stock and scrape any of the browned bits from the bottom of the pan to incorporate the rich flavors.

Add the roasted pumpkin flesh in chunks or simply use pureed pumpkin from a can (no judgment here!) and then simmer on low for 20 minutes.

Use a handheld immersion blender to puree the soup. Alternatively you can process the soup in batches in a blender or food processor. Whenever you are blending a hot soup you want to work in small batches and often with a cloth over the top of the blender so that some of the steam can be released naturally. But really, just get an immersion blender. They make this type of task so, so easy!

Once the soup is blended, add the coconut milk or heavy cream along with a dash of apple cider vinegar and salt and pepper to taste. Over a decade ago Steve and I took a cooking class for a date night and I distinctly remember the chef saying the difference between an amateur cook and a professional chef comes down to the seasoning. And he recommended that something rich and heavy like a pumpkin soup should always have a splash of acid to balance the flavor. So there you go!
Recipe Notes
To roast your own pumpkin slice your pumpkin in half and remove all the seeds. Lightly season with olive oil, salt and pepper. Roast in a 400 degree oven until soft, about 45 minutes. Once it has cooled enough to handle, the skin generally peels off quite easily and you can roughly cut it into chunks for this recipe.