Mmm…the smell of granola baking in the oven has a strong appeal. After about 15 minutes everyone starts wandering into the kitchen to ask what's cooking! And with how quickly our family consumes granola, it is easily a weekly occurrence.
After making it so often, I have a general sense of ratios and can easily whip up a batch with whatever combination of oats, nuts and spices I have on hand. We avoid refined sugar in our house, so we use honey or maple syrup to naturally sweeten our granola. Melt a little coconut oil to help hold it together and voila, you have yourself some delicious granola.
So what inspired the saffron?
For Valentine's Day my mom sent us a little care package with Saffron Salt from Savory Spice Shop. Our first condo in Denver was just a few blocks from the original location and we would wander in there often to buy fresh ground spices, so it was a fun treat to receive. I haven't cooked much with saffron, although I've always admired the beautiful golden hue it imparts to any dish it touches. On it's own it can be quite pricey since each individual saffron thread has to be hand picked from the Crocus sativus flower.
While I'm excited to try the saffron salt with seafood, I already had all the ingredients on hand to make granola and thought I would see how the flavors combined in this recipe. I wasn't entirely sure what to expect, but this particular salt blend also adds a hint of vanilla, so altogether it gave the granola a subtle floral flavor.
The recipe is very flexible, so feel free to substitute any nuts you have on hand. I also think it would be delicious with some dried fruit – I might sprinkle dried cranberries on top of our yogurt and granola tomorrow in fact!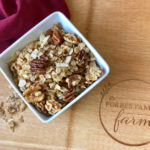 Saffron Maple Nut Granola
A delicious earthy granola with a subtle, sweet flavor.
Ingredients
1 1/2

cup

rolled oats

1

cup

pecans

1/2

cup

walnuts

1/2

cup

slivered almonds

1

tsp

Saffron Salt

1/4

cup

coconut oil

1/4

cup

maple syrup
Instructions
Preheat oven to 200 degrees.

Melt coconut oil and remove from heat.

Mix maple syrup with coconut oil and then pour over dry ingredients, stirring to coat evenly.

Spread granola in a thin layer on a baking sheet lined with parchment paper or a Silpat mat. This will help with clean up as well as more even baking.

Bake for 45 minutes (or until golden brown), stirring every 15 minutes.

Let the granola cool completely before adding any dried fruit. Store in an airtight container and enjoy!