In the morning we often let the kids put in requests for breakfast. One of their favorite choices is yogurt, granola, almond butter and honey. Yes, they are that specific in their request. Sometimes they even ask for yogurt, granola, almond butter, honey and cinnamon. So we make a new batch of yogurt and granola at least every other week. At this point I honestly don't even really use a recipe for the granola because it's so flexible based on what we have on hand, so feel free to be creative and make swaps based on your preferences or what you find in your cupboard!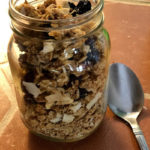 Cranberry Coconut Granola
This delicious, simple granola recipe has no refined sugars and is very flexible based on what you have on hand. It's easy to make and enjoy for breakfast or an afternoon snack!
Ingredients
6

cups

rolled oats

1

cup

raw shelled sunflower seeds

1

cup

chopped pecans

1

cup

chopped cashews

1

cup

almond meal

1/4

cup

flaxseed

1

tbsp

cinnamon

1/2

tbsp

ground ginger

1/2

tsp

sea salt

3/4

cup

coconut oil, melted

1/2

cup

honey

2

tbsp

vanilla extract

1

cup

dried cranberries

1

cup

toasted coconut flakes
Instructions
Preheat oven to 300 degrees. If you will be using a stoneware sheet pan, stick that in the oven while it preheats.

In a large mixing bowl combine all dry ingredients and stir to mix.

Heat the coconut oil in a small saucepan on the stove. When melted add the honey and vanilla extract and stir to combine.

Pour mixture over dry ingredients and stir until everything is coated.

Spread into an even layer on prepared baking sheet.

Bake for 15 minutes and then remove from oven to stir. Place it back in the oven to bake for another 15 minutes or until golden brown.

Let it cool in the pan and add in the cranberries and toasted coconut flakes before storing in an airtight container.
Recipe Notes
If you don't have toasted coconut, you can simply add raw coconut flakes in with the rest of the dry ingredients before baking.